33-5201
Discontinued
"Outstanding"
Pipe Master lighter is a pipe smokers dream come true!  This series sports Solid Brass casings. A large fuel capacity, a 90 degree flame, perfect for guiding the flame into bowl, plus a built in tamper and pick.
Finish: Engine turned gold plated w/ Initial panel
Size: H77 x W28 x D11mm
Weight: 79g
Ignition: Piezoelectric
Flame: Soft w/ pipe (Horizontal) angle
Fuel: Butane gas
Gas Capacity: 2.0g
*It comes with a Pipe tamper
Made in Japan
You may also like…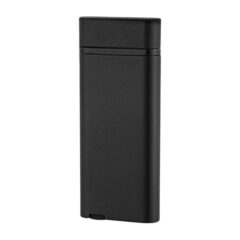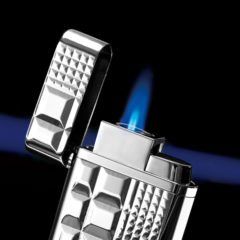 86-9113
"Smart"
The concept of this lighter is "Simplicity".
This simple design represents the superiority of each function in this lighter.
This is the real Turbo Jet lighter.  No extra decoration.  All functions are designed by considerable reason.  Reliable and strong cap, safety push down ignition system, superior handling of flame adjustment.  The main exterior components are used brass which warrants high precision and great durability.
Finish: Matte black painted
Size: H75 x W31 x D10mm
Weight: 66g
Ignition: Piezoelectric
Flame: Turbo jet (Vertical)
Fuel: Butane gas
Gas Capacity: 1.2g
Made in Japan
Read more