86-3312
"Smart"
The concept of this lighter is "Simplicity".
This simple design represents the superiority of each function in this lighter.
This is the real Turbo Jet lighter.  No extra decoration.  All functions are designed by considerable reason.  Reliable and strong cap, safety push down ignition system, superior handling of flame adjustment.  The main exterior components are used brass which warrants high precision and great durability.
Finish: Dia cut chrome plated
Size: H75 x W31 x D10mm
Weight: 66g
Ignition: Piezoelectric
Flame: Turbo jet (Vertical)
Fuel: Butane gas
Gas Capacity: 1.2g
Made in Japan
You may also like…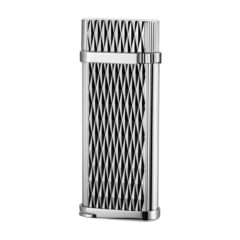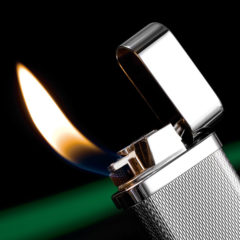 66-3677
"Elegant"
Laurel is the latest one to the family.  It is the younger brother edition of Old Boy.  So sometimes it's affectionately called "New Boy". Same as Old Boy, it comes with the built-in pipe tool, a 90° flame, and a large fuel capacity.  Laurel with a full cap looks much more elegant than his older brother, doesn't it?
Finish: Rhodium plated w/ Dia cut
Outer shell: Matte black painted
Size: H65 x W30 x D12mm
Weight: 60g
Ignition: Flint
Flame: Soft w/ pipe (Horizontal) angle
Fuel: Butane gas
Gas Capacity: 3.3g
*It comes with a Pipe tamper
Made in Japan
Read more