33-3603
Temporarily unavailable
"Outstanding"
Pipe Master lighter is a pipe smokers dream come true!  This series sports Solid Brass casings. A large fuel capacity, a 90 degree flame, perfect for guiding the flame into bowl, plus a built in tamper and pick.
Finish: Engine turned chrome plated w/ briar panel
Size: H77 x W28 x D11mm
Weight: 79g
Ignition: Piezoelectric
Flame: Soft w/ pipe (Horizontal) angle
Fuel: Butane gas
Gas Capacity: 2.0g
*It comes with a Pipe tamper
Made in Japan
You may also like…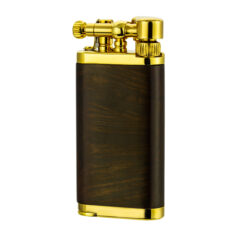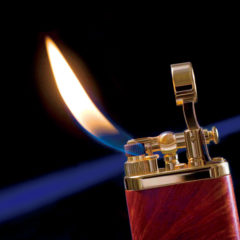 64-5010
Temporarily unavailable
"Iconic"
The classic shape and style is designed for the distinguished pipe smoker.  The built-in tool locks in a place for use as a tamper and can be removed for use as a pick.  Dependable, sure-fire flint ignition system. A 90° flame and a large fuel capacity equal longer use between refills.
Lighter: Gold plated
Outer shell: Polished dark brown briar
Size: H65 x W30 x D12mm
Weight: 60g
Ignition: Flint
Flame: Soft w/ pipe (Horizontal) angle
Fuel: Butane gas
Gas Capacity: 3.3g
*It comes with a Pipe tamper
Made in Japan
Read more